Gomina – "Into the Sunny Gray"
#32 Wecord:
Gomina – "Into the Sunny Gray"
Cassette & boîtier jaunes / Jelly yellow case and cassette
66 exemplaires / 66 copies
3 + 1 pochettes différentes / 3 + 1 different cover sleeves
+ 1 planche d'autocollants + 3 K-Cards / + Stickers + 3 K-Cards
Face A / A Side: 16bit version
Face B / B Side: 8bit version
Ecoute de la version 16bit + achat (à partir du 20 octobre) :  http://bandcamp.ww2w.fr/album/32-wecord-into-the-sunny-gray
En 2012 les Gomina sortaient, uniquement en cd, leur premier (mini) album "Into The Sunny Gray".
Sur ce disque, encore épatant aujourd'hui, se disputaient évidence pop et inventivité.
Pour cette wéédition en cassette, le visuel original a été décliné sous plusieurs formes (il y aura ainsi au moins 5 pochettes différentes). Aussi, des stickers permettront de weconstituer la pochette originale weproduite partiellement à l'intérieur et seront insérées des cartes à collectionner qui enchanteront les fétichistes des belles machines qui font bzzzz ou wouwouwou.
Enfin, il semble important d'ajouter que le groupe finalise actuellement son nouvel album, celui qui succédera à leur "Prints" mémorable de 2015.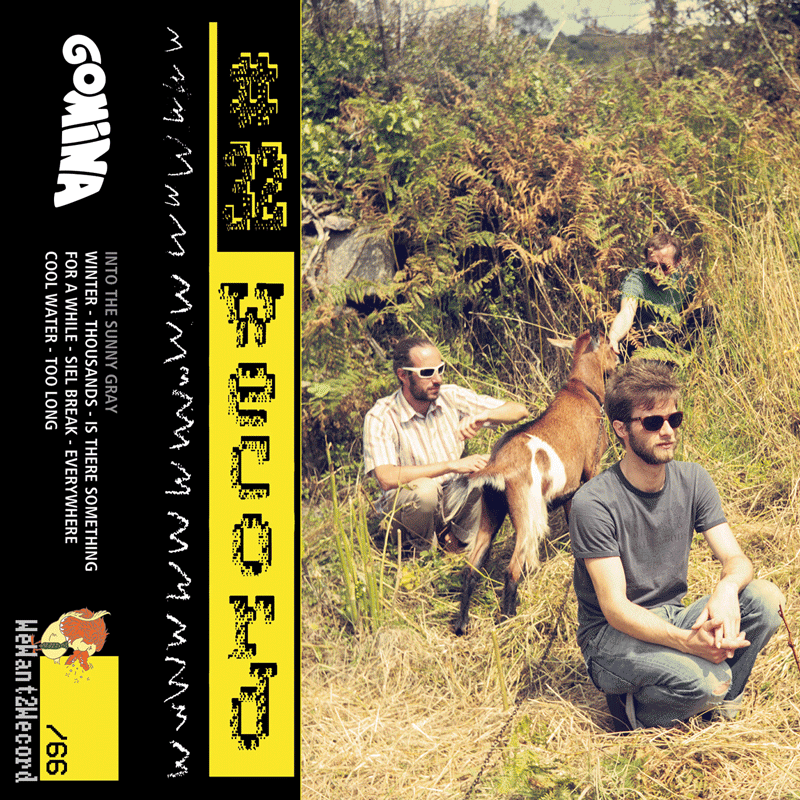 TRACKLIST
1.Winter 02:56
2.Thousands 04:14
3.Is there Something 03:43
4.For a While 03:57
5.Siel Break 00:40
6.Everywhere 03:17
7.Cool Water 04:12
8.Too Long 05:01
Originally out on March 2012, then wemastered by Chab @ Translab in 2014, "Into the Sunny Gray" is Gomina's debut EP/Mini-Album ..
Written and performed by Gomina
Gomina is: Peter Bannier, Julien Wobveille, Nicolas Wobveille, Nicolas Varin.
Wecorded in Graignes-Mesnil-Angot @ La maison du son by Gregory Salles. Additionnal tracks and mix by Nicolas V.
Cover picture by Cécile Schuhmann
Artwork: Nicolas V.