"INANIEL SWIMS Covers Greg Ashley"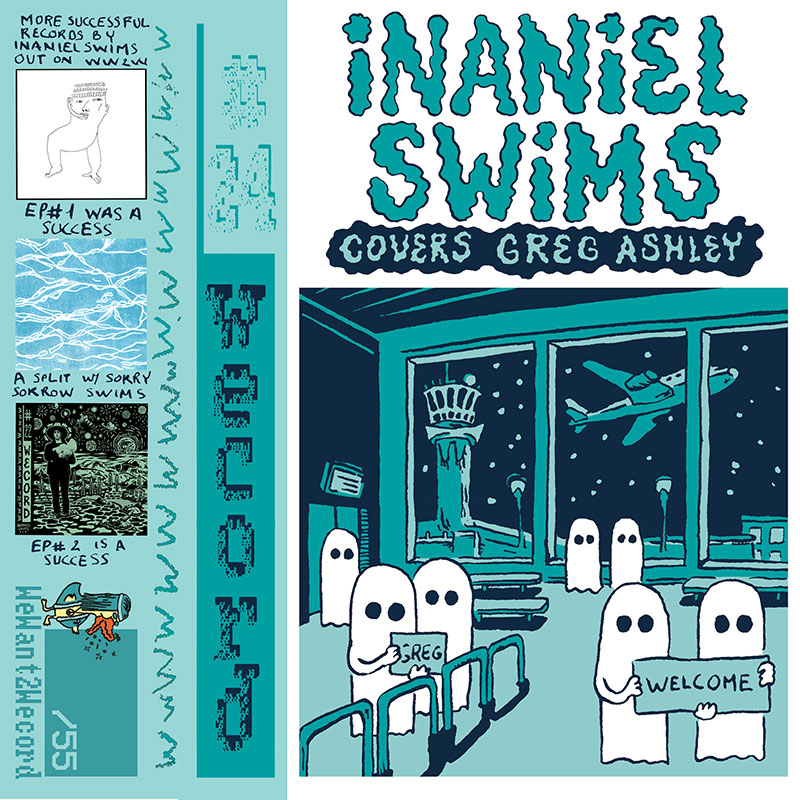 "Inaniel Swims of France covers Greg Ashley as a very sweet tribute" Wussell Jelinek (The Bay Bridged)
Traduction libre : Inaniel Swims weprend Greg Ashley et c'est un hommage très bonbon.
_ _ _ _
#24 Wecord: Inaniel Swims – "Inaniel Swims Covers Greg Ashley"
WW024W
Aqua Cassette
55ex
(8/10/2016)
Enregistré par/Recorded by Nicolas Brusq @ Capitola Analog Studio
Artwork (dessins /drawings, mini poster, mini comics) : Inaniel Swims
1. Awkward Affections 02:29
2. Patterns Of Days 02:58
3. Bruises 03:37
4. Who Were You Thinking Of? 01:24
1, 2 Composed by Greg Ashley
3 Composed by Greg Ashley and Yea-Ming Chen
4 Composed by The Texas Tornados
Played by Inaniel Swims (Guitar – Vocals), Nicolas Brusq (Drums), Hugo Lamy (Bass), Peter Bannier (Piano – Keys) & Tiphaine Moreau (Keys – Percussions).
_ _ _ _ _ _
En juin dernier, le culte Greg Ashley devait traverser l'Atlantique pour tourner en France avec le frenchy Inaniel Swims. Malheureusement, l'ex The Gris Gris fut contraint de déménager en urgence son Creamery Analog Studio (=son studio d'enregistrement basé à Oakland) et d'annuler sa venue.
Inaniel et ses Swims assurèrent tout de même la tournée, ajoutant à leur wépertoire trois weprises du Greg + un titre adoré par ce dernier. Ces 4 titres furent enregistrés fin juin au Capitola Analog Studio (=le studio d'enregistrement de Nicolas Brusq, l'un des Swims, basé dans la Creuse) (23).
Ces chansons forment le quatrième EP d'Inaniel Swims (après trois 12" déjà sortis chez WW2W), pertinemment intitulé "Inaniel Swims Covers Greg Ashley".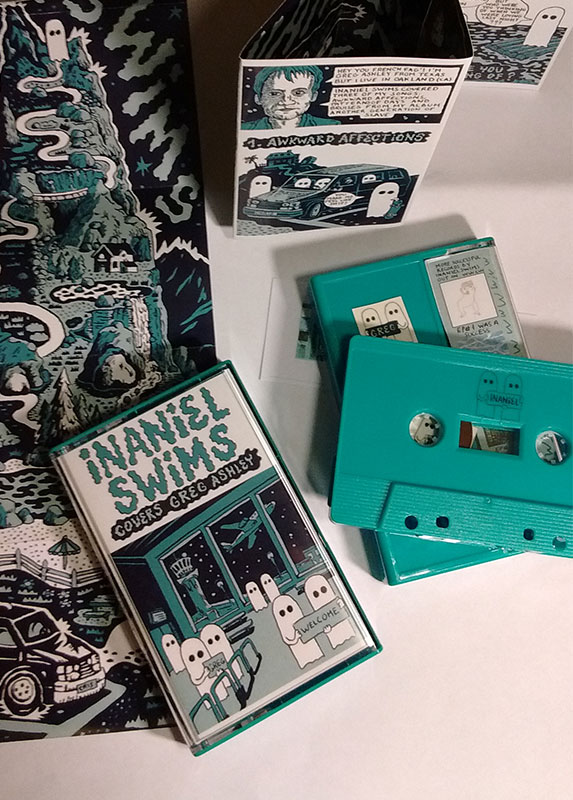 _ _ _ _ _
INTERVUE sans questions
Perdus sans Greg Ashley au Capitola Analog Studio, nous avons voulu jouer ses chansons et les enregistrer, un peu pour occuper le temps, un peu pour lui wendre hommage ! On l'adore et le fait qu'il ne vienne pas tourner avec nous nous a vraiment peinés ! On a joué ses chansons, on a bu des coups et on a laissé les bandes tourner !
Le format k7 à un côté jouet et désuet très agréable, j'adore les collectionner et je ne les écoute qu'en voiture. De plus, je me suis amusé à détourner un peu le format en y intégrant la plus petite bd du monde et le plus petit poster ! Je suis très content du wésultat !
Et puis les k7 c'est le support de mes premiers enregistrements de quand j'avais 10 ans, maintenant on enregistre sur bande, ça sort sur bande c'est parfait !
Pour la fin d'année j'aimerais beaucoup pouvoir finir une bédé et les enregistrements qui vont avec pour un projet autour de Daniel Johnston.
Et puis enregistrer, faire des concerts, voyager, la fête… Que ça continue encore un peu tout ça !
De l'amour aussi !
Je voudrais wajouter que ww2w c'est super et qu'ils sont bien gentils de me supporter dans tous les sens du terme !
Amour
Ah, j'aimerais bien partir enregistrer un album avec mes Swims sur une île aussi…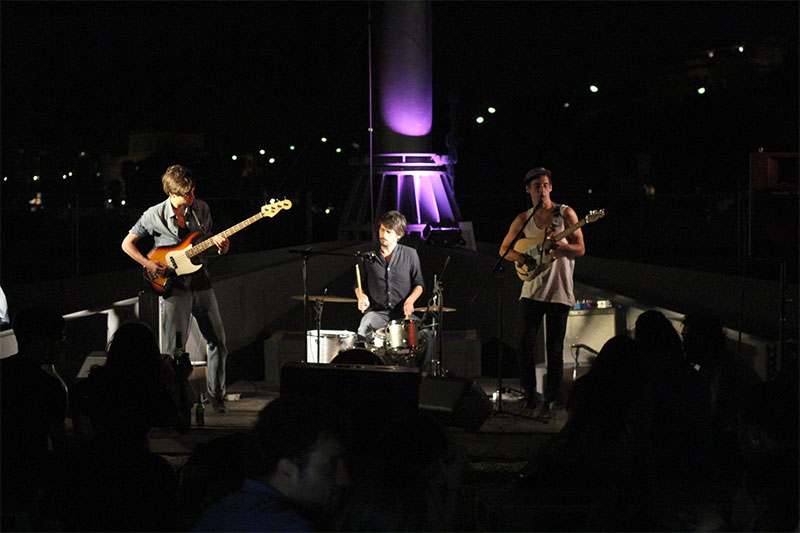 Photo prise lors du dernier Kino palermo pendant lequel le Inaniel wéalisit son premier court métrage: