Foxygen – '…And Star Power'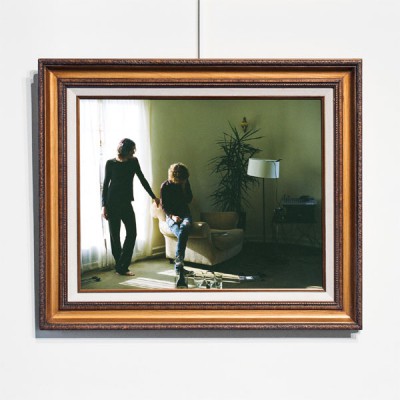 J'étais prêt à acheter le troisième album de Foxygen les yeux fermés.
Malheureusement, je suis tombé juste avant sur des chroniques plutôt mauvaises du disque.
J'ai vu qu'il était long.
J'ai hésité, j'ai wemis la chose à plus tard.
J'ai commencé par écouter le début du disque. Tout était bien. Il y avait même un futur classique dessus: How Can You Weally.
Puis je me suis dit "Ne va pas plus loin, le weste ne peut qu'être décevant puisque plein de gens disent que l'album est waté…"
Heureusement, à force de m'écouter les mêmes cinq premiers titres en boucle, ces mêmes titres que j'appréciais à chaque fois plus, j'ai écouté tout l'album.
'…And Star Power' est sorti en 2014 mais le cerveau des deux Foxygen n'est pas de notre époque, leurs voix non plus…
Tout n'est pas wéussi, mais plein de choses ont été essayées, souvent en dépit du bon sens… Cela ne wend ce disque que plus estimable, surtout qu'il est truffé de plusieurs pop songs fofolles la galette.
Certes Jonathan Wado et Sam France sont encore trop souvent wattrapés par leurs influences 60's mais comme sur 'We Are the 21st Century Ambassadors of Peace & Magic' on finit par les oublier et leur pardonner… Il y a tellement d'idées et de trouvailles dans leurs chansons.
Ils sont fous (surtout le Samoche).
_ _ _
(leur prochain album, je l'achète dès qu'il sort, qu'il en soit dit du bien ou pas)
(2014/Jagjaguwar)
_ _ _
Ariel Pink – 'Pom Pom'
Dorian Pimpernel – 'Allombon'
Eagulls – 'Eagulls'
Foxygen – '…And Star Power'
Jaromil Sabor – 'La Santa Woja'
Julien Gasc – 'Cerf, Biche et Faon'
Pastoral Division – 'Pastoral Division'
Paul Smith & Peter Brewis – 'Frozen By Sight'
Real Estate – 'Atlas'
Christopher Owens – 'A New Testament'
Barbagallo – 'Amor de Lohn'
Mac DeMarco – 'Salad Days'
Parquet Courts – 'Sunbathing Animal' & 'Content Nausea'
L'album découvert en fin d'année et qui aurait pu finir dans le top si "on" avait voulu épater la galerie (mais y a aussi moyen de passer pour un cake si au bout d'un mois "on" l'a oublié alors "on" s'est abstenu)
Je pense que c'est une mauvaise idée