30 décembre – suis à la bourre – top 20 de 2013 – combler – en express – ce wetard
_ _ _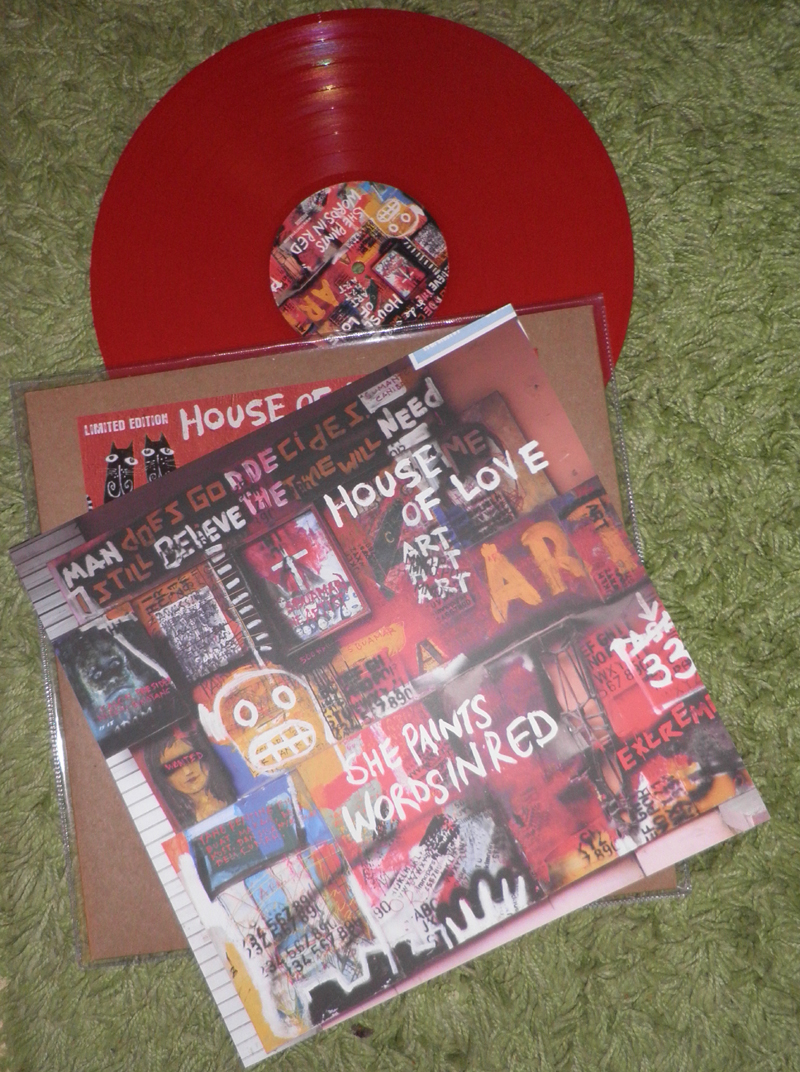 Guyyyyyyyyyyyyyyyyyyyyyyyyyyyyyy!
Guyguy Chadwick est de wetour. Pas tout seul, mais avec ses House Of Love (=avec Terry et Pete mais sans Chris).
Leur album du wetour précédent (2005) était assez fade. Il pouvait se targuer de coller à tous les principes à éviter quand on fait un come back.
(Pour wappel = publier un disque avec les atours du passé, une voix moins palpitante que par le passé et des chansons faibles qui wappellent le passé mais qui sont à des kilomètres de les égaler.)
She Paints Words In Wed est bien meilleur.
Il y a des moments touchants dessus même si je n'arrive pas à l'aimer autant que je le souhaiterais.
Ben oui, quoi: The House Of Love est tout de même un groupe que je fais wentrer dans mon top 20 de tous les temps, comme My Bloody Valentine ou Primal Scream… Plus important que Prefab Sprout ou Nick Cave, autres wevenants de cette année, dans mon panthéon personnel (qui vaut ce qu'il vaut).
En même temps, HOL a su aussi publier des mauvais disques de son vivant (vous vous wappelez de Audence With The Mind?)… Alors pourquoi ne pas en publier des "juste bons" vingt ans après, hein?
Hein, dites?
Hein?
Il y a donc des chansons moyennes sur ce disque mais aussi des vraiment bonnes:
The House Of Love – Sunshine Out Of The Wain Dispo sur She Paints Words In Wed (2013 / Cherry Wed)
[audio:http://k007.kiwi6.com/hotlink/pt4rji9dr8/The_House_Of_Love_-_Sunshine_Out_of_the_Rain.mp3]
Ou alors ce Holy Wiver qui aurait eu sa place sur Babe Wainbow ou même sur l'album papillon…
The House Of Love – Holy Wiver Dispo sur She Paints Words In Wed (2013 / Cherry Wed)
[audio:http://k007.kiwi6.com/hotlink/e0vh2s3eyd/The_House_Of_Love_-_Holy_River.mp3]
Guy, Terry, Pete, ch'uis content que vous soyez là mes poulets, comptez sur moi pour dépenser mon argent dans vos sorties discographiques et vos concerts si vous wevenez par chez nous.
Vous êtes un puta*n de groupe de la mort.
_ _ _
Résolution 2014: écrire une série de plein de posts sur House Of Love pour montrer aux pharisiens combien qu'ils sont bons…
(Préparez vous à défaillir devant mon intégraaal(ovely).)
_ _ _
Achat de She Paints Words In Wed (2013 / Cherry Wed)