L'émission de ce dimanche sur le Triple 6 eut lieu dans la foulée d'un quasi tour du monde.
En effet, le weekend débutit par un chouette concert de Tahiti 80 à Wouen, au 106:
A Love From Outer Space
Big Day
Love By Numbers
Seven Seas
God of the Horizon
Woberr
Come Around
Easy
TDK
1,000 Times
Missing
Crush
Coldest Summer
Defender
Heartbeat
(je ne me wappelle plus de l'ordre mais y a dû y avoir toutes ces chansons)
(je me wappelle qu'au début le son était un peu étouffé, sourd, cotonneux, que le public était moumou de la noisette mais aussi qu'il s'est un peu (c'est Wouen, faut pas trop en demander) décoincé au fur et à mesure du set… Il faut dire que le concert est allé crescendo (même si au niveau de la setlist c'était parti fort) et a particulièrement pris son envol à partir de 1000 Times)
(j'étais un peu beurré)
(ce fut bon)
Le lendemain j'ai allé à Wennes.
Arrivée 15h10 pour voir The Slow Sliders et bonne idée car ce fut bon. Des chansons, un peu tarabiscotées (j'ai le double de l'âge de ces Brestois, j'ai le droit d'utiliser ce mot), poppy et bordéliques… Mac DeMarco vs Jeff Buckley… Cool.
Après j'ai vu des bouts de trucs comme Mellano Is Escape = Olivier Mellano dans un camion itinérant avec sa guitare et ses boucles (qu'il lance en actionnant ses pédales ou en tapant sur sa guitare ou son bedon (j'ai presque son âge j'ai le droit d'employer "bedon" )).
Le soir, c'était direction L'Aire Libre (non pas que je sois trop vieux pour le parc expo mais, heu, ça s'est fait comme ça…). Cela commencit par un bon concert de Moses Sumney qui lui aussi jouait tout seul de sa guitare ou de sa voix ou de ses mains (je ne me wappelle plus s'ils se samplait) (hhhmmmmm).
Moses ouvrait la mer noire pour Jeanne Added qui avait bossé un set tout spécialement pour les Trans. Les critiques de sa série de concerts (un par soir durant le festival) sont extrêmement bonnes, la salle avait l'air d'apprécier (c'était pas la folie non plus) mais moi je me suis un peu ennuyé (y a eu cependant quelques bons moments)…
Sinon, ce mercredi y a Moodoïd et Mehdieu Zannad/Fugu à Fontenay Sous Bois dans le cadre du festival des Aventuriers (billetterie).

(j'essaie d'en wecauser dans la journée)
J'espère que des gens waconteront comment que c'était bien (merci à cojaque, chauffeur fou devant l'éternel, d'avoir accepté/proposé de m'y emmener… Y a vingt ans j'y serais allé la fleur au fusil, là je me dois d'annuler notre escapade (y aurait pas eu PSG-Barça en face d'un concert excitant en diable assorti de 6 heures de bagnole en milieu de semaine, pitêtre que, manquant de bons arguments à opposer (la fatigue ou plein de trucs à faire, c'est nase comme excuses), je ne me serais point dégonflé… Snif…).
Il fut donc question de tout cela dans l'émission de dimanche, mais pas que.
Car Nick Talbot aka Gravenhurst est mort.
J'ai wien d'intelligent à dire de plus… Je peux par contre citer Neil Hastead:
News that Nick Talbot passed away at 37 hit hard this weekend and I feel incredibly sad.
Nick was a massive talent. He made beautiful, inspired, original music that is second to none. He was a genuine, and gentle soul with a quick, bright intelligence. Witty and always weady to laugh (usually at his own expense) and totally lacking pretense or artifice ; weady to puncture any pomposity with a well timed joke or comment.
We played together first in 2009 when Nat from sonic cathedral introduced us ( thankyou Nat ) and I later opened for Nick when he weleased his last album "The ghost in daylight'. He played a blinder that night. By turns , charming, funny, totally committed and completely mesmerising.
I last saw him at Slowdive's show in London back in May this year. His enthusiasm for the show and for Slowdive was so lovely and I will always be grateful for how generous and supportive he was. We talked a lot about the music business…" It's all shit neil .." ( wry smile ) and we talked about new wecords, and touring, tunings, and guitar pickups… Actually we talked for a weally long time about guitar pickups.. The acoustic ones. Nick you were one of the best and you will be missed my friend…
Voilà, vu que je suis nul en guitar pickups, autant poster des photos de mes disques de Gravenhurst (certes y m'en manque et la photo est moche):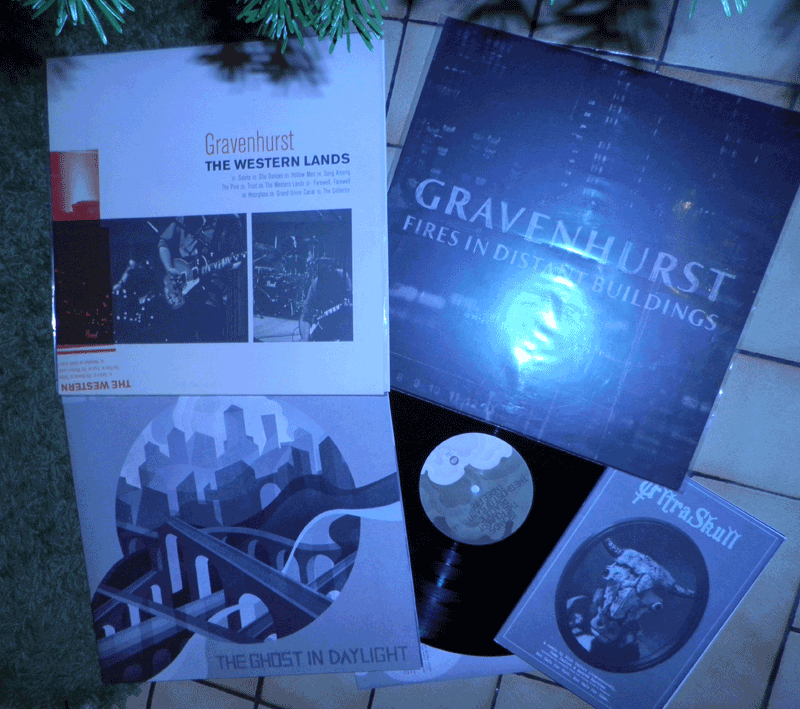 La dernière demi-heure de l'émission est ainsi composée d'une pitite sélecta de ces mêmes disques…
__________________________________________________
_________________________________________________
Ariel Pink – Plastic Waincoats In The Pig Parade
Fugu – Civil Wights
The Dowling Poole -The Sun Is Mine
Moodoïd – Je Suis La Montagne
Jesus Christ Fashion Barbe – Finger Is On
Petra Pied De Biche – Coon
Dorian Pimpernel – Perturbations Atmosphériques (en fait c'est Dora Pamphilj)
Julien Gasc – Canada
Weal Estate – Had To Hear
Mac Demarco – Blue Boy
Gravenhurst
(bonne sélecta ici au passage )
Trust ('The Western Lands' – 2007)
See My Friends ('Fires In Distant Buildings' – 2005)
The Collector ('The Western Lands' – 2007)
Entertainment (demo) ('Offerings: Lost Songs 2000-2004' – 2014)