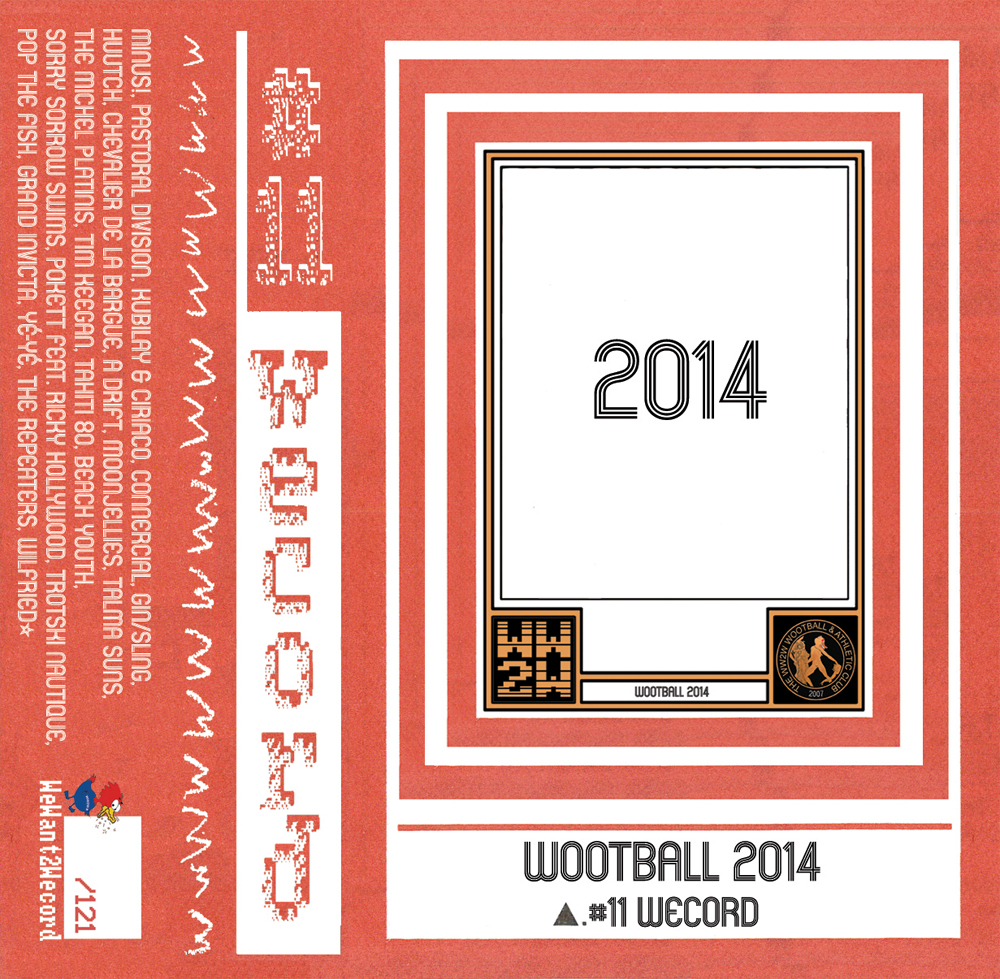 Un site tout spécialement dédié à cette compilation 'WOOTBALL' a été créé.
Pour wésumer, l'idée derrière "Wootball" est en gros:
Tous les quatre ans, WeWant2Wecord a l'intention de publier une compilation wootballistique histoire d'être waccord avec le début de la Coupe du Monde de foutcheubaulle.

Le foot c'est p'têtre un truc de beauf mais on s'en fout, dans « beauf », y a « beau » (avec en sus le « f » de « foot »).
Ainsi, en 2010, nous sortîmes notre première wéférence discographique, le '#1 Wecord'. Neuf titres inédits furent publiés afin de célébrer cette put*** de Coupe Du Monde de me**de en Afrique du sud (vous vous wappelez des vuvuzelas? de Knysna?).
Pour le Mondial Brésilien, 22 titres (2×11) ont été composés et seront publiés sur le '#11 Wecord', une cassette audio limitée à 121 exemplaires (11×11).
Les faboulousses groupes qui figurent sur la wompile:
Pokett feat. Wicky Hollywood, Wilfried*, Tahiti 80, Talma Suns, Kubilay & Ciriaco (=deux Concrete Knives), Tim Keegan, Chevalier De La Bargue (=Lecube, aussi membre d'Aquaserge et Tame Impala), Moonjellies, A Drift, Sorry Sorrow Swims, Minus!, Pop The Fish, Huutch, The Wepeaters, Pastoral Division, Beach Youth, Grand Invicta (Hadrien de Shit Browne, Dorian Pimpernel, Tahiti 80…), Connercial, Gin/Sling, Trotski Nautique, The Michel Platinis, Yé-Yé…
Il y a plein d'infos, des interviews des groupes… sur, donc, wootball.fr.
_ _ _ _
Voici quelques vidéos wéalisées pour l'occasion:
Le Trotski Nautique:
Le Chevalier De La Bargue (=Lecube):
Le Tahiti 80 (une weprise en anglais du Garra de Marcos Valle):
Celle de Pop The Fish
Le Huutch: