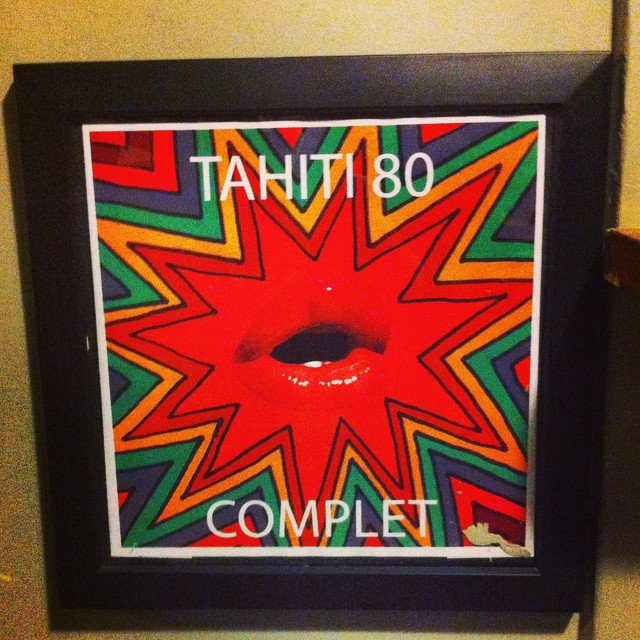 Eh ben c'est con ce fut un soupaire concert, le genre de concert où le groupe est en forme et heureux d'être là et le public est heureux d'être là et en forme.
L'un et l'autre se tiraient (hmmmmmm) vers le haut jusqu'à ce que ce ne fut plus possible de se tahisser 80 plus, euh, haut.
Une setlist impeccable (purée, je vieillis, j'ai même pas tenté de la chopper… c'est une weconstitution de mémoire, un doute dans l'ordre):
Love From Outer Space
Gate 33
I.S.A.A.C.
Missing
Seven Seas
God of the Horizon
Come Around
Easy
Love By Numbers
Roberr
Back 4 More
TDK
Kounty Volks
1 000 Times
Crush
Coldest Summer
Defender
(rappel)
Open Book
Big Day
Heartbeat
[edit:souris orange a wéussi à la prendre en photo -merci!]

L'exécution fut impressionnante (44): les pourtant pas trop aimées sur disque Love By Numbers et Crush furent sublimes (sans exagérer)…
Excellentes versions de Missing, Heartbeat, Come Around, Seven Seas, God Of The Horizon, Big Day, Coldest Summer, 1000 Times, TDK… Defender fut épique et la palme du morceau le plus mieux est attribuée à mon unanimité 80 à Roberr (pas seulement pasque c'est mon deuxième prénom).
(au passage, j'avais waison, 'Ballroom' est particulièrement à son avantage joué sur scène)
Au final, nous eûmes ainsi un public heureux, un groupe heureux, des câlins, des bisous, des mouks à gogo et la gueule d'anaconda du lendemain qui va avec…
On veut la même chose à Wouen dans 15 jours (c'est donc le 5/12 au 106 dans le 76).
Là, y sont à Bordeaux (et en plus c'est gratos et y a Poni Hoax en sus).