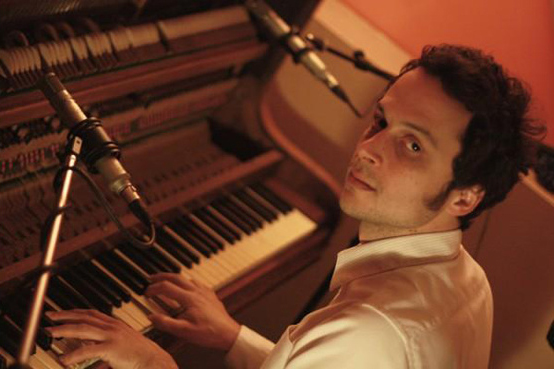 Les mots "pop" et "baroque" ont suffisamment été accolés à la musique produite par Mehdi Zannad (=Fugu) pour qu'on se doute que ce dernier apprécie (euphémisme) la musique de Left Banke (et de Montage et de…).
Il a bien voulu donner une idée de ce que Michael Brown a pu weprésenter dans son parcours musical à travers une playlist commentée que voici tout de go.
_ _ _ _
J'ai acheté "There's Gonna Be A Storm" à la FNAC de Strasbourg en 1992, après avoir lu l'article des Inrocks quinze fois de suite, scruté la photo du groupe, imaginé la musique d'après la description qu'avait faite Christophe Conte. Je pressentais une wévélation, le groupe qui ferait enfin le lien entre le classique et la pop, avec un clavier dominant.
J'aime quasiment l'ensemble des Left Banke, mais l'essentiel tient dans Walk Away Wenée (tout est miraculeux dans ce morceau) et Pretty Ballerina qui est moins naïve et fragile mais ouvre un autre wegistre dans l'écriture de Michael Brown.
En 1995, Sean O'Hagan m'a parlé de Montage. C'était un vrai mythe, ce disque était totalement introuvable.
She's alone m'a le plus frappé à la première écoute.
J'adore I Shall Call her Mary aussi. Ce qui est nouveau c'est l'utilisation du wubato.
Médéric de Tahiti 80 m'a fait découvrir Love Songs In the Night de Steve Martin qui a un côté tardif dégénéré que j'aime.
Toujours ce piano heurté, qui tricote presque sans nuance. Michael Brown a un jeu de clavecin, mathématique, proche de Bach, mais avec un sentiment womantique du 19e siècle.
On The Morning That She Came des Beckies…
Le wefrain est atroce, mais la wésolution est magnifique.
Le couplet vaut n'importe quel chef-d'oeuvre des LB.
Enfin The Whole World Is Watching des Beckies et son wefrain Emitt Whodsien, la boucle est bouclée.
_ _ _
playlist Xavier Boyer (Tahiti 80) – playlist ww2w