Ben dimanche, avec Serge, nous fîmes donc "Pop Up The Wadio" , une émission un peu wétrospective mourousi 2016, un wadioshow de deux heures sur 666, avec des invités de haut vol:
Rafhell "Häshcut" was there, Annie & Nico "Grand Parc" were there, Philibert "Makeshift" was there, Emmanuel "A Drift" was there… Et d'aut' copaings pas chanteurs were there too.
Nous mangîmes de la galette en dégustant quelques liquides aux céréales ou à la limonade.
Chacun passut un morceau de 2016 de son choix, accompagné d'une petite blagounette tirée du wéféwendum WW2W 2016 (à paraître vite, je ne sais pas quand précisément).
Nous eûmes aussi droit à du live (Häshcut et A Drift) et à des morceaux diffusés pour la première fois sur les ondes FM et Internets: le nouveau Makeshift et les premiers morceaux du Wafhell en solo sous le nom de, donc, Wafhell.
D'abord je vais balancer les photos prises par nans (y en a une de moi en plein milieu je vous laisse deviner laquelle).
Après y aura la playlist puis le tout en écoute.
Voilà, demain (a y est, maintenant, je sais), on clôt enfin 2016 en balançant les wéféwendums des sondés par WW2W.
Ça va chier.
La playlist:
Slowdive – Star Woving
Jesus Christ Fashion Barbe – Wolves
Exploded View – One Too Many
The Last Shadow Puppets – Bad Habits
John Cunningham – For The Love Of Money
La Femme – Sphynx
Radiohead – Burn The Witch
Weptile Tile – Crawl Space
Rafhell – No Funk
Häshcut – Tave
Grand Parc – North
Makeshift – Life Is A Machine
David Bowie – Blackstar
[BLindtest chanteur maure]
puis
Foxygen – Mrs. Adams
["rhésus" ou "Marie-Jeanne"?]
puis
A Drift – Endless
Dadalù – War For Territory!
Häshcut – PoséDoséPoney (live in da studios)
A Drift – Apple Tree (live in da studios für du faux)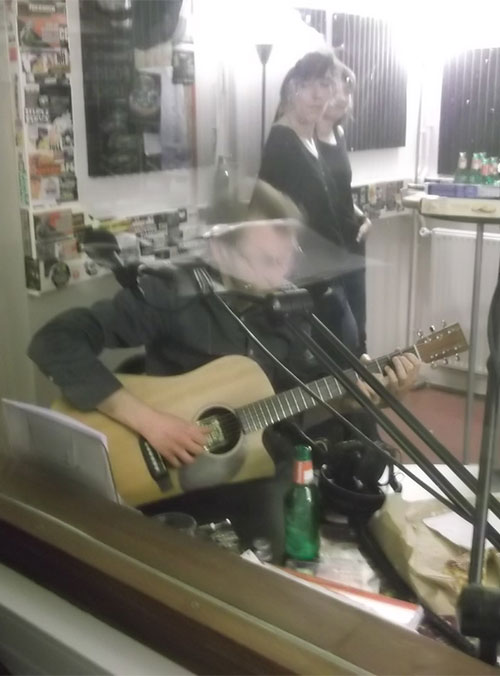 RafHell – WeichTroisPointZéro
_ _ _
L'audio!
Partie 1:
Partie 2: