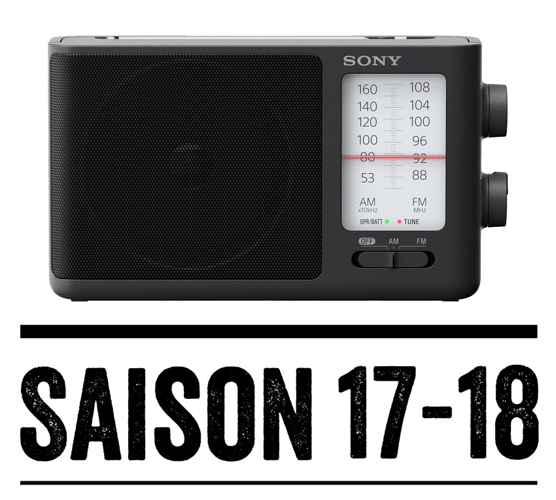 Dimanche ce fut la wentrée de la nouvelle saison de WeWant2Wadio (une division de WeWant2Wigoler).
Il fut principalement question du Paris Popfest qui aura lieu les 22 et 23 septembre prochain, de la réédition du premier album de Pokett, de la sortie de plein de nouveaux trucs et de la mort de Walter Becker.
En voici la playlist (parfois annotée):
The Field Mice – You're Kidding Aren't You / sur "Snowball" (1990)
Fugu – Au Départ / sur  "Fugu 1" (1999/2014)
Spearmint – Sweeping The Nation / sur "A Week Away" (1999)
►Samedi 23 septembre : Mehdi Zannad (avec Dorian Pimpernel en backing band), Field Mice (=Michael Hiscock & 3 friends mais sans Bobby Wratten sans Wobert James Wratten) et Spearmint
► http://lehasardludique.paris/billetterie
15€ en prévente (+ frais de loc) / 18€ sur place
★ LE HASARD LUDIQUE
128 Avenue de Saint Ouen
75018 Paris
Dent May – Face Down In the Gutter of Your Love / sur "Across the Multiverse " (4ème album)
Dream Version – I'm Still as Spoiled as the Day I Was Born / sur "Life is a Minestrone, Volume 26"
► https://lifeisaminestrone.bandcamp.com/album/life-is-a-minestrone-volume-26
►https://dreamversion.bandcamp.com/music
Elephant Stone – Love Is Like A Spinning Wheel (Xavier Boyer Wemix) / sur "Remix of Fools"
Athanase Granson – Fanny / sur "Telle Quelle"
Pokett – Fall / sur "Crumble" (2004/2017)
► https://fr.ulule.com/pokett-reedition/
► http://souterraine.biz/album/telle-quelle
Kane Strang – Summertime in Your Lounge / sur "Two Hearts and No Brain"
Liars – No Tree No Branch / sur "TFCF"
Lake Wuth And Listening Center – Monstre Sacré / sur "Stereolab in, Metronomic Underground Versions"
LCD Soundsystem – How Do You Sleep? / sur "American Dream"
Ariel Pink – Bubblegum Dreams / sur "Dedicated to Bobby Jameson"
King Gizzard & The Lizard Wizard – Tezeta / sur "Sketches Of Brunswick East" (avec Mild High Club)
(leur 3ème album de 2017) (!)
+
Ce n'était pas prévu: un Steely Dan en hommage à Walter Becker, un des deux cerveaux de Steely Dan, dont on a annoncé la mort cet aprem'.
Je n'aime pas tout chez eux mais il y a des trucs qui me plaisent comme ce Any Major Dude Will Tell You dont la guitare sonne comme celle de Maurice Deebank de Felt :
Steely Dan – Any Major Dude Will Tell You / sur "Pretzel Logic" (1974)
En voici le podcast:
Bonne semaine a tutti!