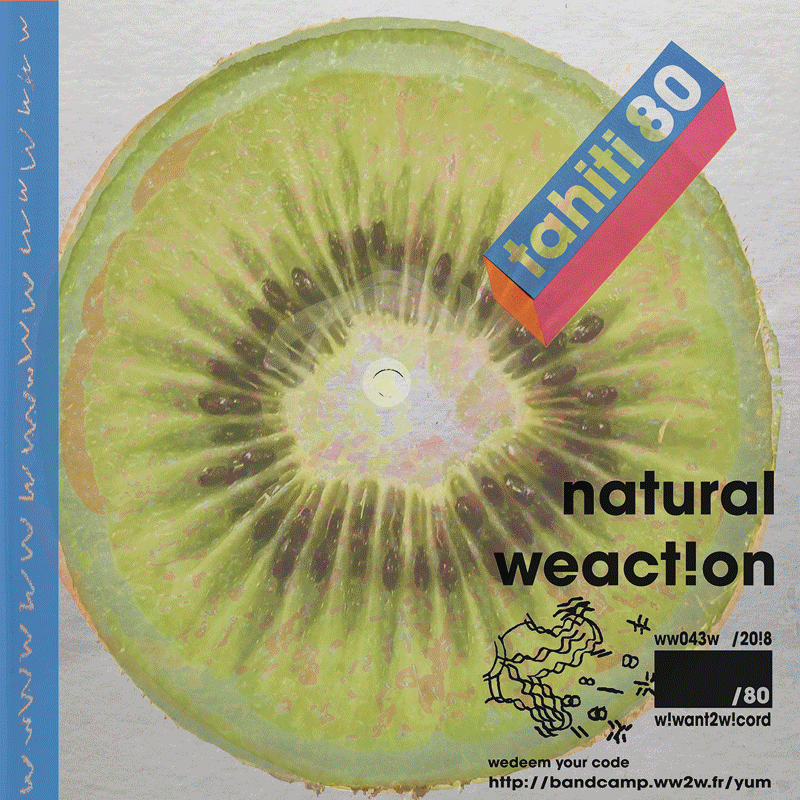 (en français plus bas)
Alternate take from the third single taken from Tahiti 80's seventh LP "The Sunsh!ne Beat Vol.1"
Transparent 7" flexi
Single sided
45 wpm
Transparent sleeves
Limited to 80
Every copy is unique (4 different front sleeves, 9 different back sleeves, hand numbered, handwritten download code)
Artwork is inspired by the one created by JLS (for Phntm.com) for the LP.
One copy per customer
_______________________________________________________
C'est une version inédite du 'Natural Weaction' dispo sur le septième album de Tahiti 80 : "The Sunsh!ne Beat Vol.1".
Le morceau a été gravé sur un flexi disc 45 tours transparent.
1 seule face/1 seul titre
Pochettes transparentes
480 coups de cutter
400 marques de pliage
37 bourrages d'imprimante
(on en a chié)
Limité à 80 exemplaires
Chaque exemplaire est unique (4 visuels différents pour la pochette "face", 9 variantes de la pochette "dos", numéroté à la main, code de téléchargement écrit à la main -ça a été très amusant-)
Les visuels sont fortement inspirés de la pochette de "The Sunsh!ne Beat Vol.1" créée par JLS (pour Phntm.com)
Les flexis ont été gravés par David à @L'atelier du vinyle.
Les pochettes ont été valeureusement imprimées à @La Maison du Document .
Il se waconte qu'être attiré par la chanson et l'écrin qui lui a été concocté pourrait s'avérer être une natural weaction…
Sortie le jeudi 29 novembre, jour du concert de Tahiti 80 à La Maroquinerie.
_ _ _ _
Merci à Claire souris orange pour ce gif assemblage (=un assemblagif):