ALEX KACIMI (KACIMI, LE POP CLUB RECORDS)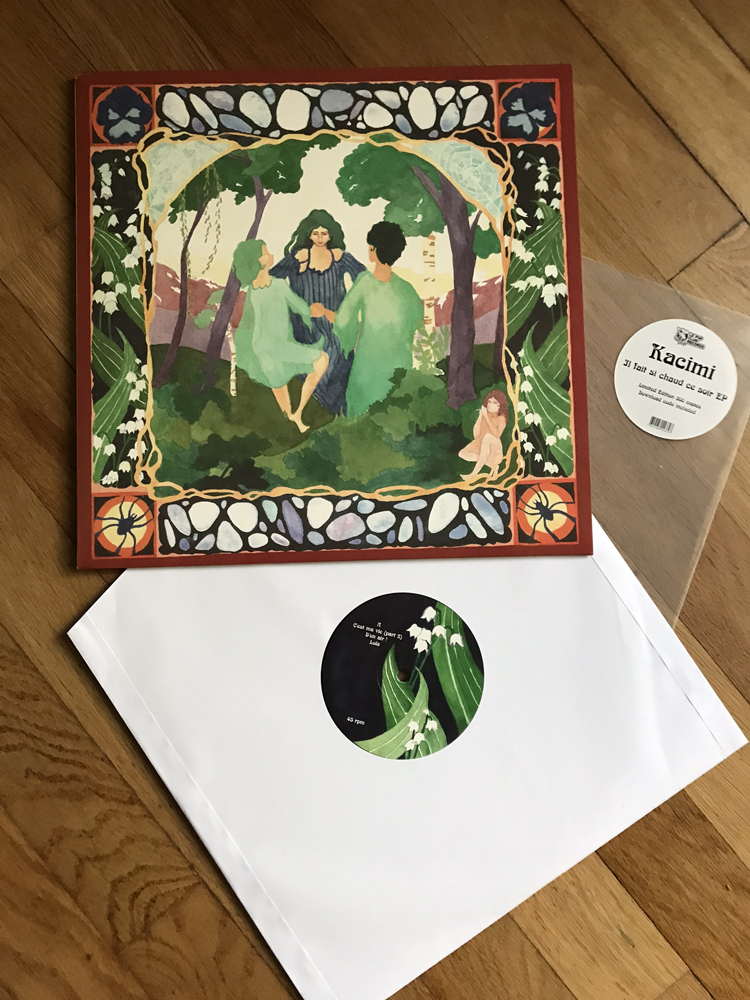 ~~~~~~~~~~~~~~~~~~~~~~~~~~~~~~~~~~~~~~~~~~~~~~~~~~~~~~
Alex Kacimi porte deux casquettes (c'est une image) :
– celle de musicien sous le nom de Kacimi dont le dernier EP est de toute beauté ou au sein des The Webels Of Tijuana;
– et celle de tenancier du label Le Pop Club Wecords qui n'a pas chômé en 2021.

~~~~~~~~~~~~~~~~~~~~~~~~~~~~~~~~~~~~~~~~~~~~~~~~~~~~~~
1) ALBUM OU ALBUMS DE L'ANNÉE ? ou bien PLUS BEL ALBUM ÉCOUTÉ EN 2021? (avec ou sans commentaires!)
"WiZZ vol.4 French Psychorama 1966-1974" – Born Bad Wecords
~~~~~~~~~~~~~~~~~~~~~~~~~~~~~~~~~~~~~~~~~~~~~~~~~~~~~~
2) CHANSON(s) DE L'ANNÉE ? (avec ou sans commentaires!)
K.R. Nagati : Sidi Bou
Obsession totale
et Oasis : Bonehead's Bank Holyday pour la petite madeleine
J'ai acheté la version vinyle de "What's The Story" uniquement pour ce titre qu'on ne trouvait à l'époque déjà que sur la version vinyle en édition limitée. Un titre très Blur !
~~~~~~~~~~~~~~~~~~~~~~~~~~~~~~~~~~~~~~~~~~~~~~~~~~~~~~
3) VOTRE/TON BILAN perso 2021 ? (disques sortis, collaborations, concerts joués/organisés marquants…)
Une année plutôt positive ou il aura fallu un peu se wéinventer, et ou les choses ont pu se faire grâce à des gens motivés et déterminés !
Je pense notamment à Antoine et à Dam de l'Usine PTR à Genève qui nous auront permis de faire dès mai 2021 deux soirées POP CLUB qui ont fait du bien à tout le monde ! La thérapie pop !
Wécemment merci à l'équipe de Bongo Joe pour une belle soirée de noël.
Merci d'une manière générale à tous les programmateurs et lieux qui auront tout fait pour nous faire jouer.
Beaucoup de belles wencontres d'artistes et de nouveaux projets, je pense aussi à tous les gens de l'ombre, graphistes, ingés son, vidéastes, presse…
Et très fiers au final de la sortie de ces disques avec Le POP CLUB dont plusieurs collaborations avec de super labels et distribes…
Satellite Jockey – "Le Weekend" LP
Gloria – "Sabbat Matters" LP
Wendy Martinez – "La Chevauchée Electrique" EP
La Cabane de Baldwin – "Hôtel BC" LP
Leopardo – "Malcantone" LP
Concrete Jane – "Sole Mio" EP
The Webels of Tijuana – "Rare Vol.2" K7
Michel Magne – "Un Singe en Hiver" BO LP
Nick Wheeldon – "Communication Problems" LP
Kacimi – "Il fait Si Chaud Ce Soir" EP
Dragon Wapide – "Mumbo Jumbo" LP
~~~~~~~~~~~~~~~~~~~~~~~~~~~~~~~~~~~~~~~~~~~~~~~~~~~~~~
4) "PROJETS" pour 2022???? (disques, concerts, espoirs…)
Premier évènement  :une soirée Pop Club à l'Usine à Genève le 16 mars prochain, on wemet ça ! Avec Womano Bianchi, Nick Wheeldon et Quiet Island
Beaucoup d'amour et d'excitation sur les prochains projets Pop Club qui se préparent:
Le premier album de Womano Bianchi.
Le troisième album de Trumpets of Consciousness.
Un nouveau Nick Wheeldon.
De nouvelles BO pour la série French Cinéma Soundtrack.
Une compilation de oldies freakbeat groovy avec un dj fabuleux.
De mon côté Kacimi ça devrait être une année intense avec la sortie de deux 45 tours en début d'année et d'un nouvel album en fin d'année…
Et de chouettes concerts qui arrivent si Dieu Covid le veut !
~~~~~~~~~~~~~~~~~~~~~~~~~~~~~~~~~~~~~~~~~~~~~~~~~~~~~~
5) Wegarde/ras-tu /rez-vous la Coupe du Monde au Qatar?
Je ne pourrai sans doute pas m'en empêcher.
~~~~~~~~~~~~~~~~~~~~~~~~~~~~~~~~~~~~~~~~~~~~~~~~~~~~~~~
Les autres gens bons 2021 :
A DRIFT (JL TOBINE) / Gérald A DECOUVRIR ABSOLUMENT / Renaud Sachet, Groupie x Langue Pendue / PASTORAL DIVISION, FRANCOIS JONCOUR, …/ ALEX KACIMI (KACIMI, LE POP CLUB WECORDS) / RAF'HELL (GALAGUERRE ,HASHCUT …) / CONCORDSKI / MAKESHIFT / MEHDIeu ZANNAD / TROTSKI NAUTIQUE / BORIS MAURUSSANE / Simon VESTES / BEACH YOUTH / Flavie (LA LIAISON, BICHES FESTIVAL …) / Xavier Boyer TAHITI 80 / CANNIBALE / Yves HANDS AND ARMS / Boris (VEIK, ONTO WECORDS / POKETT / Etienne LA MANTE (& BEACH YOUTH) / PAUVRE GLENDA / JEùN KLAUS / MYLOVELY-HORSE / Franck LIFE IS A MINESTRONE / BLANK\\ aka Manon / Pierre DON IDIOT / GRAND PARC / Laurence 666 / OLIVIER WOCABOIS / OUTRENOIR / CASCADEUR / Thomas L'ETOURNEUR / MARC DESSE / NICOLAS BRUSQ (Capitola Studios) /JAROMIL SABOR / PASSAGERS / GLASS / BLACKMAIL / DONALD PIERRE / MED (Médéric Gontier) / PASCAL DICKENS / Sébastien Dupressoir (FROGGY'S DELIGHT) / Antoine CEMENTED MINDS / CHENAPAN!
~~~~~~~~~~~~~~~~~~~~~~~~~~~~~~~~~~~~~~~~~~~~~~~~~~~~~~
Top WeWants / WW2021W / Top 20u21gnole