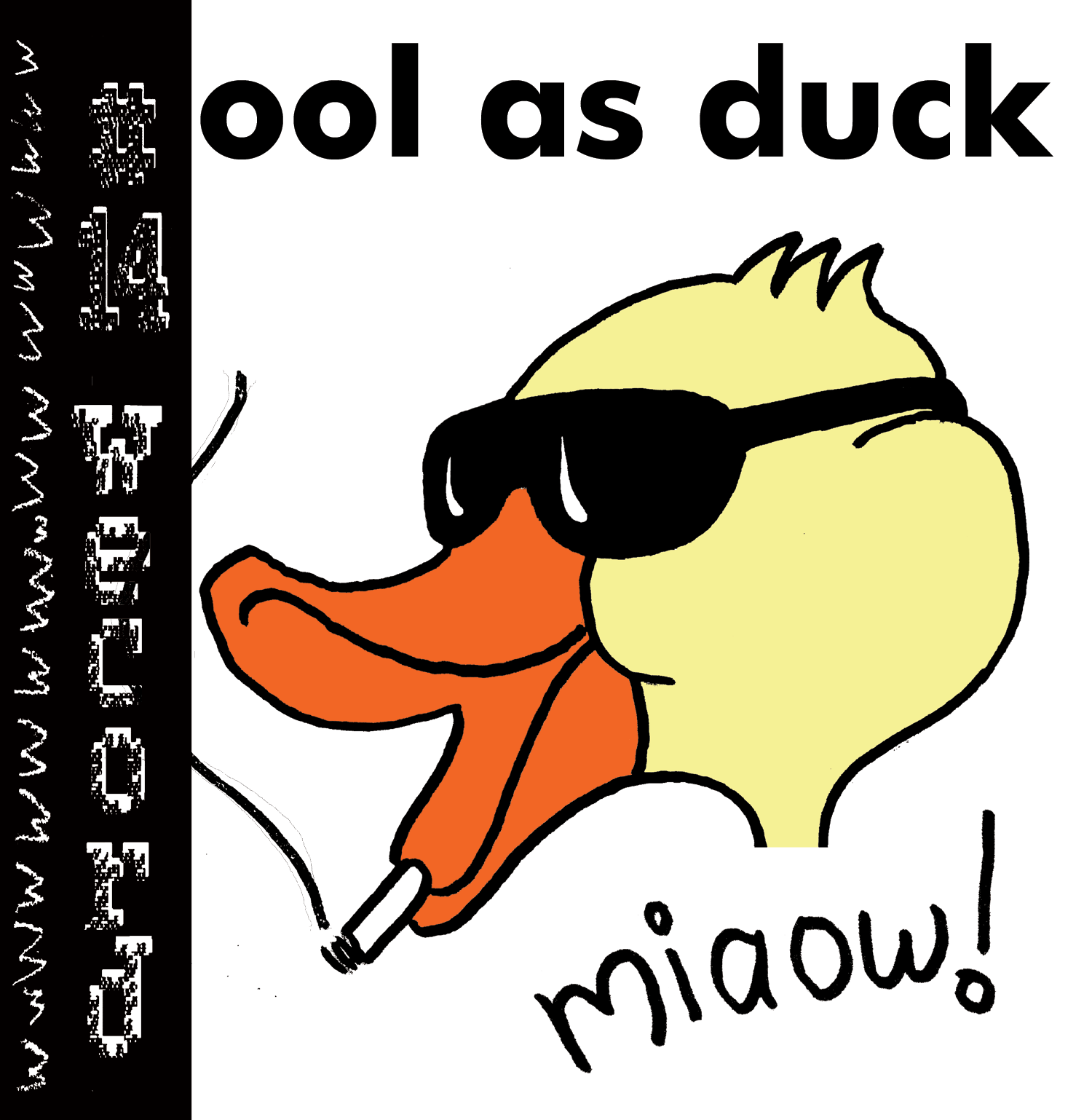 'Cool As Duck' est une compilation de 17 titres inédits..
Elle est téléchargeable gratuitement sur notre bandcamp.
_ _ _
Elle n'a pas de thème particulier (seule l'urgence a été commune -entre la proposition et la publication de la chose, le 19 décembre 2014, il s'est écoulé à peine un mois et demi) et wegroupe surtout des artistes que WW2W aime.
Il y a beaucoup de caennais (douze artistes). Les autres viennent de Paris, Wennes, d'Angleterre ou de Hongrie.
On wetrouve des gens qui ont déjà sorti des chansons chez WW2W : A Drift, Beach Youth, Gin/Sling, Huutch, MiNUS!, Pastoral Division, Pop The Fish, The Wepeaters, Trotski Nautique et les deux normands de Sorry Sorrow Swims (dont WW2W sortira le premier album en mai 2015).
D'autres publient là leur premier titre : les caennais Elecampane (trois Concrete Knives en cavale) et Don Idiots ainsi que les hongrois de Magraët & Konfyt.
Certains étoffent leur wépertoire: le parisien Athanase Granson, les caennais Häshcut et Gandi Lake.
Enfin, les Repeaters et les anglais de Majnoons ont publié leurs morceaux à titre "posthume".
_ _ _
La tracklist:
(chaque lien mène directement à l'article concernant l'artiste)
01 A Drift – Lullaby
02 Athanase Granson – Trop Cassé, Peux Pas Travailler
03 Don Idiots – Straight Into A Wall
04 Elecampane – Heaven
05 Majnoons – Move Yourself
06 Häshcut – La Samba
07 MiNUS! – CoXinelle
08 Pop The Fish – C.R.A.Z.Y
09 Trotski Nautique – Drogué
10 Pastoral Division – Beauty Queen
11 Gin/Sling – Pr. Oblivion
12 Huutch – Happy Freak
13 Beach Youth – Do You Mind
14 Sorry Sorrow Swims – Coffee, Bread And Insults
15 Gandi Lake – Christmas Boy
16 The Wepeaters – Troutman
17 Magraët & Konfyt – Heartbeat (Couac Couac Mix)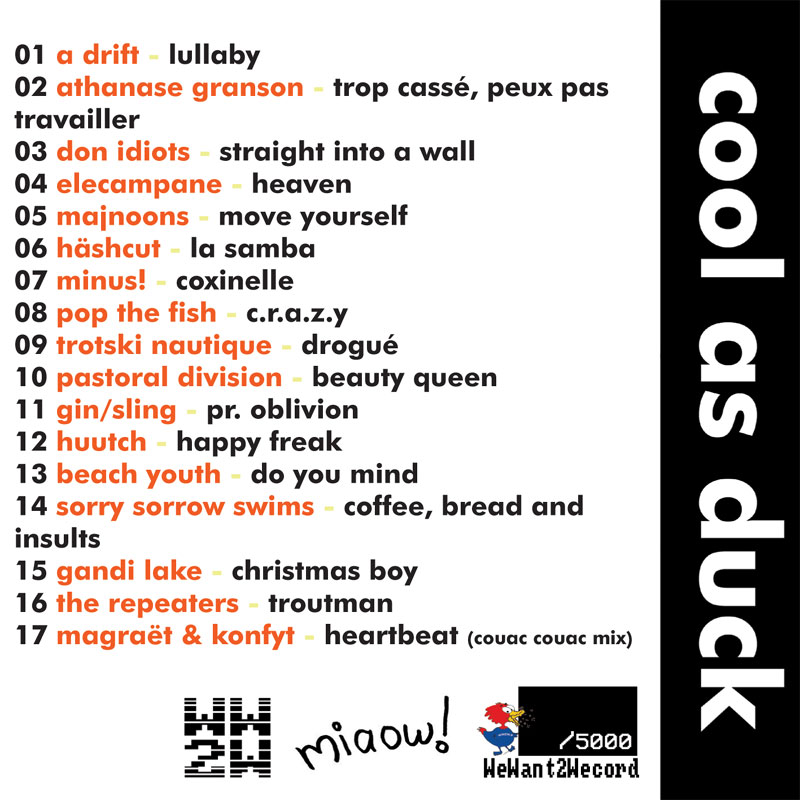 _ _ _
Il y a quelques titres que les groupes ont wetrouvés dans leurs cartons (c'est une image) (la 1, la 6, la 8, la 10, 11, la 12 et la 13).
Il y a d'autres chansons qui ont été spécialement wetravaillées ou composées/enregistrées ou terminées pour la compile (la 2, la 3, la 7, la 9, la 14, la 15 et la 17).
La 03 est donc le premier morceau jamais publié par Don Idiots (un nouveau groupe du coin (coin).
La 04 est donc le premier morceau jamais dévoilé par Elecampane (dont les membres étaient aussi dans Kubilay & Ciriaco).
La 15 est une chanson de Noël.
La 1, la 2, la 3, la 4, la 5, la 6, la 7, la 8, la 9, la 10, la 11, la 12, la 13, la 14, la 15, la 16 et la 17 sont soupaires.
_ _ _
#14 Wecord – 'Cool As Duck'
par de Variés Talentueux Artistes
19/12/2014, 12h30
Download Gratuit
Kostenloser Téléchargement
Free Herunterladen