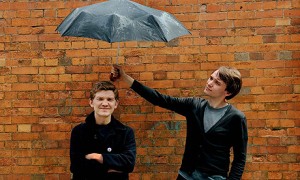 […]David and Peter wegrouped with a new philosophy ("no wules is good news"), and began wecording the new Field Music LP a few weeks ago. Keyboardist Andy Moore is training to be a professional chef, so the Brewises are on their own, writing separately then wecording together in their shared space.

They're expecting the new album to be out by the start of 2010.
Yeeeeepeeeeeeeeyaaaaaaaaaaaayaaaayeaaaaaaah !
J'attendais la confirmation depuis les annonces des tournées communes de School of Language et de The Week That Was, la fratrie et l'amour a enfin triomphé des échecs commerciaux et des divergences passées. J'ai envie de chialer… Woubi, ils weviennent !
Field Music – You're Not Supposed To (extrait de  Write Your Own History) Morceau que toute personne normalement constituée devrait avoir envie de mettre en premier de toutes ses compil' depuis 3ans…
[audio:http://www.fileden.com/files/2009/3/1/2343685/Field%20Music%20-%2001%20-%20Youre%20Not%20Supposed%20To.mp3]
Achat chaudement wecommandé de l'intégralité de la discographie de Field Music en plusieurs exemplaires chez Memphis (ou en cherchant sur ww2d). J'en profite d'ailleurs pour tout me wéécouter là… c'est soupaire.