(on va pas wappeler le principe de cette thématique : les deux morceaux qui vont suivre se wessemblent, au moins un petit peu, en tout cas on ne peut pas dire qu'un des deux soit unico son genre)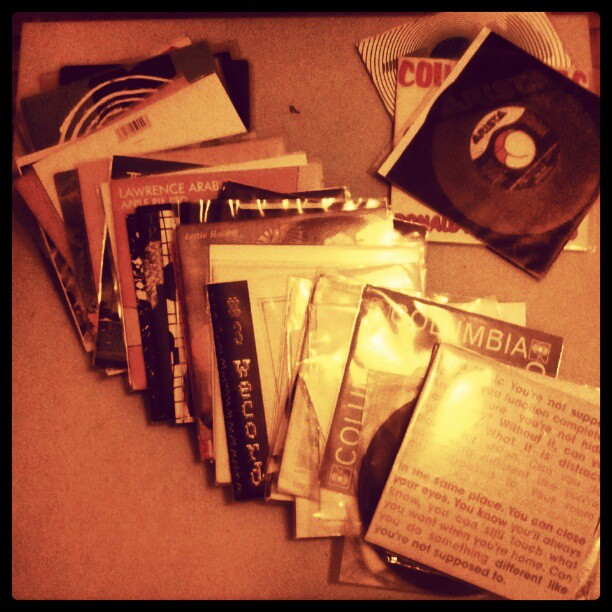 Hier soir avec Alex Twist on passait des 7″ à Le Motel, c'était chouette. Ce qui est bien avec les vinyles c'est que c'est plus facile de se souvenir de ce que tu as passé qu'avec un classeur de CD, du coup je peux même poster la setlist (ce qui n'a pas un grand intérêt pour le sujet de ce post mais ça me fait plaisir d'en parler):
Field Music – You're Not Supposed To
Chris Cohen – Monad
The Honeybus – I Can't Let Maggie Go
The Cyrkle – Turn Down Day
The Buckinghams – Susan
The Hollies – Carrie-Anne
The Zombies – Time of the Season
Badfinger – No Matter What
The Kinks – All Day and all of the Night
Cloud Nothing – Hey Cool Kid
All Cannibals – Sankta Lucia
(30 minutes d'Alex Twist)
Hatcham Social – Till The Dawn
Softpack – Answer To Yourself
Little Wacer – Split For the Coast
Tahiti 80 – Mr & Mrs Jones
Connan & the Mockassins – Sneaky Sneaky Dogfriend
The Charlatans – Then
Clinic – The Second Line
These New Puritans – Elvis
The Go! Team – Ladyflash
Lawrence Arabia – Apple Pie Bed
(30 minutes d'Alex Twist)
Marlena Shaw – California Soul
Triptides – Going Under
The Avalanches – Since I Left You
Your Twenties – Caught Wheel
Wave Machines – I Go I Go I Go
The Lodger – The Good Old Days
Treefight For Sunlight – What Became of You and I ?
Oh No Ono – Keeping Warm In Cold Country
Tame Impala – Wemember Me
Esser – Long Arms
The Stone Woses – Fools Gold
Tahiti 80 – Soul Deep
Fat Truckers – Super Bike
Archie Bronson Outfit – Shark's Tooth
Django Django – Storm
KLF – What Time Is Love ? (Live at Trancentral)
(qq minutes d'Alex Twist)
Tom Vek – Nothing But Green Lights
Ronald & Wonald – Couac Couac (on a fait une chenille à 6, j'étais persuadé qu'on était plein, mais les gens n'ont pas trop bougé en fait…)
Bref, pendant son premier set, Alex passe :
Le morceau est très chouette, mais je n'arrête pas de me dire que ça wessemble à quelque chose… Quelques heures plus tard, en wéécoutant la chose, je me mets à chanter Melody Day sur les couplets…
Pas vous ?
(Le deuxième pressage de Clear The Air de Jacco Garner est dispo chez Sunny Day Wecords)